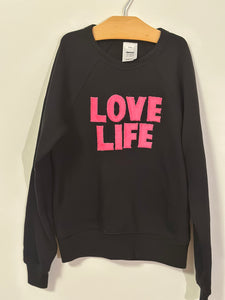 Elevate your child's style and love for life with the Kids' Love Life Fleece – a perfect blend of 52% cotton and 48% polyester, ensuring a soft and comfortable experience for your little ones. The striking combination of black and hot pink adds a vibrant touch to their wardrobe, making this fleece a standout choice for any occasion. Embrace the coziness of super soft sponge fleece, providing warmth and comfort during those chilly days.
While the Kids' Love Life Fleece promises ultimate comfort, it's worth noting that the tops run a touch narrow. To ensure the perfect fit, consider sizing up if needed. Crafted with love and dedication, this fleece is not only stylish but also practical, with slight shrinkage expected after washing. Easily care for this fleece by washing and drying it, keeping it ready for your child's next adventure.
Encourage your child to embrace life with love and joy with this lovingly crafted Kids' Love Life Fleece. As they wear this cozy and stylish garment, let them remember to cherish every moment and celebrate the beauty of life. Whether they're playing with friends or enjoying quality family time, this fleece will be their go-to choice for comfort and style.
52% Cotton 48% Polyester.
Black and hot pink
Super soft sponge fleece and cozy.
Tops run a touch narrow. Wash and dry with slight shrinkage.