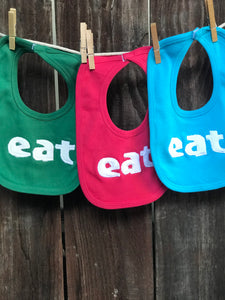 Make mealtime a delightful and mess-free affair with our adorable and amusing cotton "eat" bibs by declan.la! These bibs are designed to add a touch of charm to your little one's dining experience while keeping those inevitable stains well-hidden.
Available in perfectly bold colors of hot pink, green, and turquoise, these handcrafted bibs are both stylish and functional, making them an essential addition to your baby's mealtime routine.
Specially designed to fit babies aged 6 to 18 months, our Infant Bibs are thoughtfully crafted with high-quality cotton to ensure comfort and durability. Whether it's a messy feast or a playful snack, these bibs have got you covered, keeping your baby's outfit pristine and making clean-up a breeze. Embrace the joy of parenthood and add a splash of color and fun to every mealtime with our charming "eat" bibs.
Trust in the quality and design of declan.la to bring convenience and style to your baby's feeding moments, creating memories filled with laughter and love.
High-quality cotton.
Fits 6-18 months.
Turquoise, hot pink, and green.