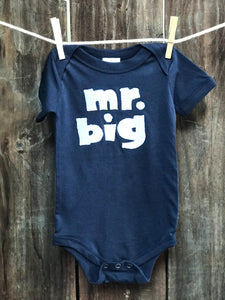 Get ready to witness the cutest and funniest baby gift with our best-selling Infant Mr. Big Onesie! This charming outfit is a delightful choice that is sure to bring a smile to everyone's face. Crafted with high-quality cotton, this onesie offers the utmost comfort for your little one's delicate skin. The exquisitely handcrafted letters add a touch of uniqueness and charm to this adorable ensemble, making it a standout addition to any baby's wardrobe.
Designed in a great darker color combination of navy and white, this onesie is not only stylish but also more stain resilient, perfect for the messier moments of parenthood. Available in true-to-size fit, this onesie ensures a comfortable and cozy experience for your baby. While there may be some slight shrinkage after washing and tumble drying on low, rest assured that this onesie will remain a durable and cherished piece in your baby's collection.
Embrace the joy and laughter that comes with the Infant Mr. Big Onesie, celebrating your little one's uniqueness and brightening every moment spent together. Let your baby shine as the charming little star they are, captivating hearts in this lovingly crafted and handcrafted onesie.
Available in 3-6 months, 6-12 months, and 12-18 months.
100% cotton.
Navy and white.
True to size. Some shrinkage.
Available in 3-6 months, 6-12 months, and 12-18 months.