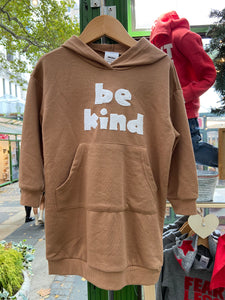 Embrace kindness and style with our Kids Be Kind Hoodie Dress, thoughtfully crafted with 80% polyester and 20% cotton. Dressed in the serene tones of camel and white, this charming ensemble radiates a sense of warmth and positivity, inspiring your child to spread kindness wherever they go.
Indulge in the luxurious softness of our super lightweight French Terry fabric, designed to cocoon your little one in a world of comfort. Whether they're running around in the park or enjoying a cozy evening at home, this Hoodie Dress is the perfect companion, offering unparalleled comfort and freedom of movement. Plus, worry less about laundry days, as this dress is conveniently washable and dryable with no concerns of shrinkage, ensuring it remains a cherished part of your child's wardrobe for many adventures to come.
With a true-to-size fit, the Kids Be Kind Hoodie Dress embraces your child's uniqueness, empowering them to embrace their identity and spread the message of kindness through their fashion choices. Let your little one embody the spirit of kindness and fashion effortlessly in this delightful Hoodie Dress that will surely brighten up their day and those around them.
80% Polyester, 20% cotton.
Camel and white.
Wash and dry with no shrinkage. True to size.