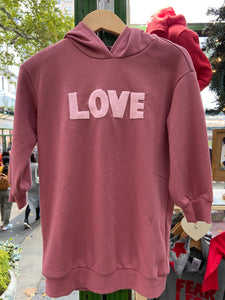 Unleash your child's style with our Kids Love Hoodie Dress, an enchanting fusion of 80% polyester and 20% cotton. In the sweetest hues of rose and pale pink, this dress exudes a captivating charm that will surely win your little one's heart.
Crafted from a super soft and lightweight French terry fabric, this dress is a delight to wear, wrapping your child in gentle comfort throughout their adventures. The impeccable design ensures easy maintenance, as the dress can be conveniently washed and dried with no worries of unwanted shrinkage. True to size, the Kids Love Hoodie Dress offers a perfect fit, allowing your child to express their individuality effortlessly and embrace their unique style with confidence.
Let your little fashionista shine in this delightful hoodie dress that marries comfort and fashion seamlessly, promising to be a wardrobe favorite for your child's memorable moments.
80% Polyester, 20% cotton.
Rose and pale pink.
Wash and dry with no shrinkage.
True to size.