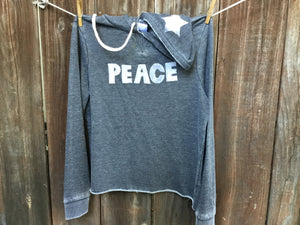 Introducing our Women's Peace Hoodie Tee, the perfect solution for all your style needs. Crafted from French terry fabric, this hoodie tee has quickly become a fan favorite, thanks to its ideal middle weight and versatile easy loose fit. Whether you wear it on its own or layer it over another tee, it fulfills so many of our fashion desires. In fact, you'll love it so much that you might find yourself wanting another version! Plus, we've added three adorable stars on the hood to add a touch of charm to this already incredible piece.
Made from a blend of 50% cotton and 50% polyester, this hoodie tee ensures both comfort and durability, making it a reliable choice for everyday wear. The dark weathered grey hue adds a touch of sophistication, while the naturally curled up raw hem adds a casual and effortless flair. Its loose wider fit complements various body types and offers a relaxed feel you'll adore. Worried about shrinkage? Fear not! Our Peace Hoodie Tee experiences minimal to no shrinkage, so you can enjoy its perfect fit wash after wash.
Embrace the versatility and comfort of our Women's Peace Hoodie Tee, the ultimate go-to addition to your wardrobe. Experience the ease of pairing it with any outfit and enjoy the convenience of effortless styling. Handcrafted with care, this hoodie tee is the embodiment of style and practicality, a piece you'll reach for time and time again.
Washing and caring for it is a breeze – just wash and tumble dry on low, and you'll have your favorite hoodie tee ready for any adventure that comes your way.
50% cotton 50% polyester.
Dark weathered grey.
Naturally curled up raw hem.
Loose wider fit. Minimal to no shrinkage.