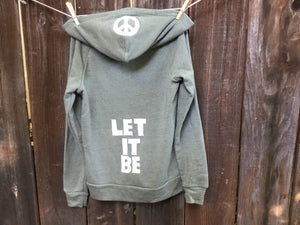 Embrace your newest favorite wardrobe staple with the Women's Let It Be Fleece Jacket! This middleweight fleece jacket is not only versatile but destined to become your go-to choice for any occasion. Its perfect army green color allows you to wear it all day long, exuding a sense of effortless style. But what truly sets this jacket apart is the much-loved saying that adorns it, bringing a touch of inspiration and positivity to your ensemble. Handcrafted with care, this jacket is a testament to both fashion and comfort.
Crafted with an eco tri-blend of 50% polyester, 38% cotton, and 12% rayon, the Women's Let It Be Fleece Jacket offers the perfect combination of softness and durability. Designed with a slender and attractive fit for women, this jacket flatters your figure while providing the utmost comfort. It's worth noting that many women opt for a larger size to achieve a relaxed and cozy fit. While some shrinkage may occur, maintaining the pristine look of this jacket is simple - just wash and tumble dry on low, and it will continue to be your go-to piece season after season.
Elevate your style with this empowering and inspiring fleece jacket, and let its warmth and charm envelop you in confidence all day long.
50% polyester, 38% cotton, 12% rayon.
Eco tri-blend.
Army green.
Slender, attractive woman's fit. Many women opt for a larger size.
Some shrinkage.