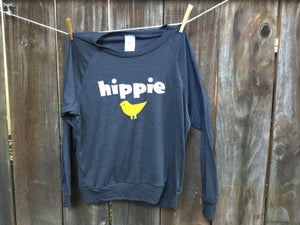 Unleash your inner hippie chick or share the charm with someone special through our Women's Hippie Chick Slouchy Tee – a top seller loved even by Declan's mommy who wears it all the time! This tee exudes a captivating versatility that effortlessly complements any outfit choice – pair it with a skirt, leggings, or jeans, and you're good to go! Its loose, slouchy fit also makes it a perfect layer for cooler days, adding an easy-going touch to your style.
Crafted with care, this slouchy tee features a blend of 50% polyester, 25% cotton, and 25% rayon, ensuring a comfortable and luxurious feel against your skin. The classic black hue adds a timeless elegance to your look, making it a go-to option for various occasions. With its true-to-size fit and slight shrinkage, you can trust that this tee will maintain its perfect fit after washing. For those who desire extra length and a laid-back vibe, the slouchy fit provides an ideal choice.
Unleash your bohemian spirit with our Women's Hippie Chick Slouchy Tee – an essential addition to your wardrobe that effortlessly combines comfort, style, and versatility. Express your inner free spirit, and make this tee a staple for every adventure you embark on. Enjoy the ease of washing and tumble drying it on low, knowing that this beloved slouchy tee will accompany you through countless journeys with its timeless charm.
50% polyester, 25% cotton, 25% rayon.
Black.
True to size. Slight shrinkage.
Some women opt or a larger size for extra length.