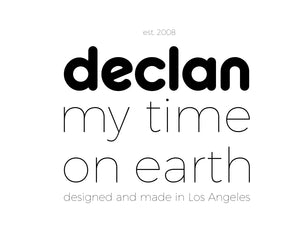 Discover the perfect solution for the seasoned shopper who seemingly has it all – the Declan LA Gift Card! Delight your loved ones with the freedom to choose their favorite apparel from our exclusive fashion collection. With denominations of $25, $50, $100, and $150, this gift card opens the door to a world of luxurious possibilities.
Gift cards are delivered straight to your inbox by email, providing a seamless and convenient gifting experience. They also contain easy-to-follow instructions on how to redeem them at checkout, making the entire process hassle-free. Plus, our gift cards have no additional processing fees, ensuring that the full value of the card can be enjoyed for a shopping spree that's truly fulfilling.
Surprise your friends and family with a present that reflects your thoughtfulness while giving them the freedom to explore and pick what genuinely speaks to their style. Perfect for birthdays, anniversaries, or any special occasion, our gift card ensures an unparalleled shopping experience.
Get ready to win the gifting game with the Declan LA Gift Card. Make the joy of giving even more memorable and let your loved ones embark on a journey of self-expression and style. Shop now and spread the love!
Available in denominations of $25, $50, $100, and $150.