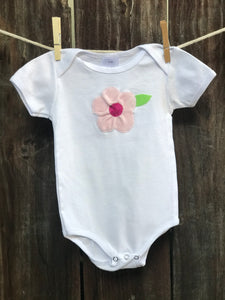 Embrace the beauty of simplicity and sweetness with our beloved Infant Poppy Flower Onesie! This charming piece, one of my original designs, continues to be a customer favorite. The poppy flower detailing adds a delightful 3-D effect, making it a unique and handcrafted masterpiece. Versatile and easy to pair with your baby's favorite bottoms, this onesie is the perfect addition to your little one's wardrobe.
Crafted with love and care, this onesie is made from 100% cotton, ensuring a soft and comfortable feel against your baby's delicate skin. The pristine white hue with flower accents adds a touch of elegance to your baby's outfit, making them shine like a little flower themselves. Available in true-to-size fit, this onesie promises a snug and cozy experience for your baby. While there may be some slight shrinkage after washing and tumble drying on low, rest assured that this onesie remains a cherished and durable piece that will stand the test of time.
Embrace the joy of parenting with the Infant Poppy Flower Onesie, celebrating the simplicity of love and cherishing the sweet moments spent with your precious little one. Let your baby bloom like a beautiful poppy flower, capturing hearts in this lovingly crafted and versatile onesie.
Available in 3-6 months, 6-12 months, and 12-18 months.
100% cotton.
White with flower accents.
True to size. Some shrinkage.
Available in 3-6 months, 6-12 months, and 12-18 months.