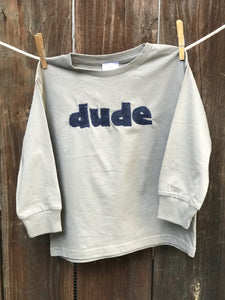 Dress your little dude in style with our Kids' Dude Long Sleeve Tee! Made from 100% cotton in a titanium hue, this tee offers the perfect combination of comfort and quality. The loose fit ensures freedom of movement, allowing your child to play and explore with ease while looking effortlessly cool.
Crafted with love and care, this tee is not only adorable but also incredibly durable, withstanding the energetic adventures of any active youngster. Whether your dude is headed to school, hanging out with friends, or simply enjoying a day of fun, this long sleeve tee is the perfect addition to their wardrobe. Its classic design and "cool" factor make it a versatile and trendy choice.
Easy to care for, just wash and tumble dry on low for long-lasting wear. Let your little one shine in our Kids' Dude Long Sleeve Tee - a lovingly crafted piece that embodies both cuteness and coolness!
100% cotton. Titanium.
Loose fit and great quality cotton.
Very durable.