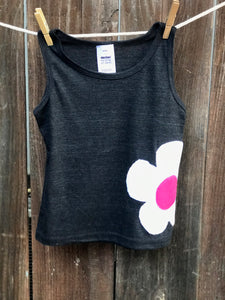 Let your little one bloom in style with our Kids' Flower Tank Top Tee! This tri-blend tee, made with 25% cotton, 50% polyester, and 25% rayon, offers a delightful combination of comfort and durability. The classic black hue adds a touch of sophistication to any outfit, making it a versatile addition to their wardrobe.
Designed with a loose fit, this tank top tee ensures freedom of movement, allowing your child to play and explore with ease. The loving craftsmanship behind this piece shines through, ensuring it's not only cute but also thoughtfully made to withstand the active lifestyle of young adventurers. Whether they're out on exciting outdoor escapades or simply enjoying a relaxed day at home, this Flower Tank Top Tee is the perfect companion for every occasion. It's time to let your child embrace the joy of being comfortably stylish and confidently cute in our beloved design - a true favorite of Declan's!
With easy care instructions of wash and tumble dry low, keeping this tee looking fresh and vibrant is a breeze. Let your little one blossom with charm and flair, as they create cherished memories in this adored Flower Tank Top Tee!
25% cotton, 50% polyester, 25% rayon.
Black with a white and pink flower.
Loose fit. Wash and tumble dry low.
Versatile, cute and comfy!