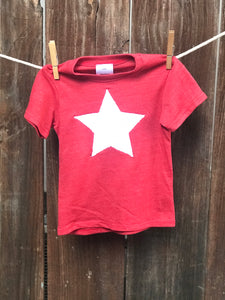 Discover the timeless charm of our Kids' Star Tee, an original Declan LA design that harks back to the roots of our company. Crafted with eco tri-blend fabric, comprising 50% polyester, 37% cotton, and 13% rayon in a striking shade of red, this tee is a testament to our commitment to both style and sustainability.
From the very beginning, our passion for the environment has driven us to incorporate recycled materials in the yarn used for this tee's construction. Embrace a piece of history and ensure your child looks and feels their best in this true-to-size, lovingly crafted shirt. While it may slightly shrink after washing, rest assured that its super-soft feel and exceptional durability have made it a cherished best seller since our company's inception.
Elevate your child's wardrobe with a touch of nostalgia and a conscious choice for the future, as they proudly don our Kids' Star Tee - an original Declan LA design from the time we embarked on this inspiring journey.
Eco tri-blend material. Uses recycled materials in yarn.
50% polyester, 37% cotton, 13% rayon.
Red with a white star.
True to size. Slight shrinkage.
Super soft and durable.