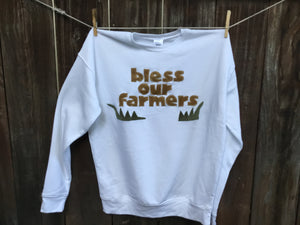 Wrap yourself in warmth and gratitude with our Unisex Bless Our Farmers Fleece Sweatshirt, a cozy and truly special garment that pays homage to the hardworking farmers who tirelessly toil to bring us the bounties of the land. With a heartfelt nod and bow to the dedicated souls working in our fields, this sweatshirt is a heartfelt tribute to their tireless efforts. Declan's mommy spent her early years in the picturesque state of West Virginia, and this sweatshirt is a loving homage to the agricultural roots that run deep within. Embrace the essence of appreciation as you don this meaningful piece, and take a moment to thank our farmers for their invaluable contributions.
Crafted with care, the Bless Our Farmers Fleece Sweatshirt is a blend of 52% Polyester and 48% cotton, ensuring both comfort and quality that lasts. In a serene White hue, it exudes purity and simplicity, making it a versatile addition to your wardrobe. With a true-to-size unisex fit, this sweatshirt is a perfect choice for everyone, wrapping you in coziness and a sense of unity. Although slight shrinkage may occur, maintaining its pristine form is effortless - just wash and tumble dry on low.
Wear it proudly, knowing that you carry the spirit of gratitude and appreciation with you, embracing the connection to those who bless our lives with their hard work.
52% Polyester, 48% cotton
White.
True to size. Unisex fit.
Slight shrinkage.